Donations
Being a new party means we don't have large resources and all of our work is done by volunteers. We do not yet receive electoral funding. A donation will help pay for candidates deposits, advertising, pamphlets and how to vote cards. Donations are tax deductible up to $1500 per year.
You can donate via direct deposit (EFT) from your online bank account, or by cheque.
Direct deposit / Electronic Transfers
Secular Party of Australia,
Westpac Bank, St Kilda South,
BSB (no spaces): 033 082
Account no. (no spaces): 19 0282
When doing an electronic transfer,if you put your own name in the "to account description" or "lodgement reference", we can identify you. A print of your own transaction will normally suffice for tax purposes.
Cheque
The Treasurer, Secular Party of Australia
PO Box 6004
Melbourne VIC 3004
If you require a receipt, please include your name and return address. We will be issuing receipts at the end of each calendar month. No names or addresses will be used for any purpose other than sending a receipt.
High Court Challenge
The Secular Party supports Ron Williams' High Court Challenge to the Chaplaincy Program. All donations to us marked "challenge" or "HCC" in the lodgement reference will be forwarded, dollar for dollar to the Challenge bank account.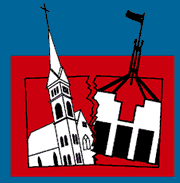 Recent Articles
Recent Topics